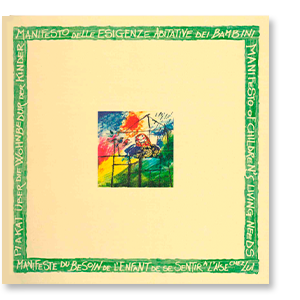 MANIFESTO OF CHILDREN HOUSING NEEDS
Coordination and text: Luciano Pantaleoni and Laura Malavasi
Illustrations: Emanuele Luzzati
Editor: Maggioli Editore, Rimini, 1999

Material book that illustrates the results of the research carried out by Andria and Ises (Educational-Scholastic Services Institution) from 1995 to 1999 involving two preschools in the province of Reggio Emilia in the municipalities of Correggio and Rio Saliceto: 700 children, 50 teachers, 2 pedagogists together with 20 architects, technicians, craftsmen and artists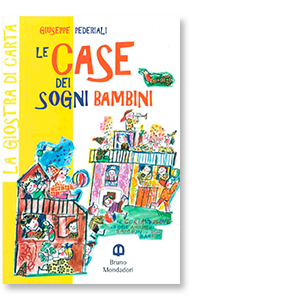 THE HOUSES OF CHILDREN'S DREAMS
by Giuseppe Pederiali

Illustrations: Emanuele Luzzati
Editor: Bruno Mondadori Editori, Series "La giostra di carta", 2003
Fantastic story through the living dreams of boys and girls, born from the sharing of research curated by Andria with the Emilian writer and Genoese illustrator.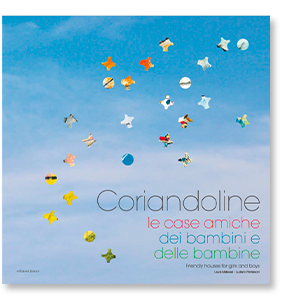 CORIANDOLINE
"The friendly houses of boys and girls"
Coordination: Luciano Pantaleoni and Laura Malavasi Andria s.c.r.l.
Editor: Edizioni Junior s.r.l., Azzano San Paolo (BG), 2008
Author's texts and photographs to tell in words and images the neighborhood created, the ideas, projects and the story of this unique and magical experience.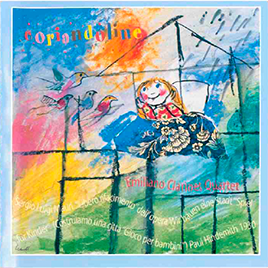 EMILIANO CLARINET QUARTET
"Let's build a play city for children"
Free remake of Paul Hindemit's symphony (1930)
The notes accompany the story of Coriandoline. This symphony played live also opened the inauguration event of the district which took place on September 16, 2008.